Eparchs of Nobadia
From MedNub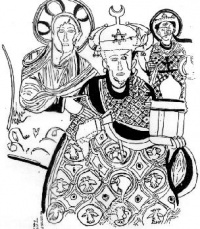 This is a provisional list of eparchs of Nobadia, and does not claim to be complete. Nor does it list individuals specified as some other type of eparch; for a complete list of variants, see our page on Offices and Titles. Where not otherwise indicated, references are to unpublished texts from Qasr Ibrim by find-number.
Wall Painting, Abd el-Qadir (see image, right).
Gebel Adda inscription, Rostkowska 1982 ("Patronage of the Arts") 212, note 10, where for "akirimipn songoja" read "akiri migin songoja".
Abu Salih names a "Lord of the Mountain" living at Bausaka whose eyes were put out by George, son of Zacharias Israel.
In office: 1180s-1200, among other undated texts. See e.g. P.QI inv. 72.10.31, P.QI 3 passim.
P.QI inv. 74.3.10.5 frag 4.
In office: 1155. See P.QI 3.30.
In office: c. 1180s. P.QI 2.23, P.QI 3 passim.
Deceased 1006. I.Tib. 6 .
Grzegorz Ochała proposes reading this name as the address to P.QI.4.102. .
Deceased 930. I.Khartoum Copt. 2.
Doubtfully read at P.QI inv. 84.1.31/30 side 2.
Certainly read at P.QI inv. 78.2.12/50. See also 78.2.12/65 = NI 44.
Deceased October 1102, aged 36. Thus born circa 1066. I.Khartoum Greek 5.
Qasr Ibrim Photos 76 V3 33 + 76 V3 38. Note also the king of the same name.
Unpublished Qasr el-Wizz letter 65.11.103, in preparation by Alexandros Tsakos.
Millett 1967, 59 reports an eparch of Nobadia with this name in an Old Nubian letter excavated at Gebel Adda.
See P.QI.4.67.
P.QI 2.21. Before Israel?
D. 798. See I.Khartoum Greek 23.
Coptic stela from Serra East: Kush 11, 127.
During the reign of Moses George; see the Dirr land sale protocol.
P.QI inv. 74.3.10 9 IV.
Possibly in P.QI.4.70.
P.QI 3.46, Giovanni Ruffini personal photo AS134.
See P.QI.4.63.
Abu Salih describes an official wearing a turban, two horns and a bracelet living at Faras.
Deceased September, 1161, at the age of 95. Therefore born circa 1066. See I.Khartoum Greek 8. Also a Choiak-Eikshi.