Faras West
From MedNub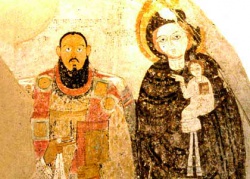 On the west bank of the Nile, 306-7 km upriver from Philae. A huge and diverse complex of remains spread over a very large area, this was a site equal in importance to Qasr Ibrim. It was occupied at least from Meroitic to early modern times, and may have been the residence of the Kings of Nobadia prior to the extinction of that monarchy. The dominant feature in Christian times was a large cathedral which was already blown full of sand and abandoned before the end of the Christian period, consequently preserving intact most of its program of nearly 170 wall paintings. They are by far the most extensive collection of Christian Nubian art that has survived anywhere. The paintings were successfully removed in the course of excavation, and are now divided between the National Antiquities Museum in Warsaw and the Sudan National Museum in Khartoum. Other Christian remains included at least seven other churches, extensive cemeteries, a walled enclosure which may have originated in Meroitic times, and a pottery factory. From 1910 to 1912 an Oxford University expedition excavated most of the churches other than the cathedral, large parts of the cemeteries, and the pottery factory; the Cathedral and immediately adjoining and overlying buildings were excavated by an expedition from the Polish Center for Mediterranean Archaeology from 1961 to 1964. Excavation of the pottery factory was completed by the Sudan Antiquities Service in 1960. Almost no habitation remains were excavated.
Sources: For the cathedral, Michalowski and Gerster 1967; Godlewksi 2006; for the paintings, Michalowski and Gerster 1967; for the other churches and the cemeteries, Griffith 1926; Griffith 1927; for the pottery factory Adams 1961; Adams 2005, 71-89
(Contributed by William Y. Adams.)
For a 3D reconstruction of the cathedrawl at Faras, visit this site.